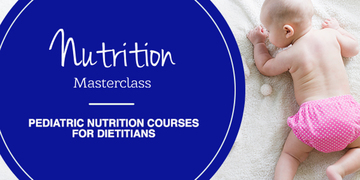 You guys…. WE DID IT!!!!!
Our business, Nutrition Masterclass, is now a Continuing Professional Education (CPE) Accredited Provider with the Commission on Dietetic Registration (CDR).
BEST CHRISTMAS PRESENT EVER!!!
We've been tirelessly filling out applications for the last year and getting field matter experts to review all our work.
In the US, Registered Dietitian Nutritionists (RDNs) must obtain the equivalent of 75 CPEUs (continuing professional education units) in a 5-year recertification cycle.All of our future live webinars and self-study courses will automatically be eligible for CPEUs.
For those of you not in the US, it means that we meet tight program standards to offer continuing learning opportunities.
WE'RE LEGIT! And so, so, proud.
So here's your last Newsbites of 2019.
HOT OFF THE PRESS!
We know that early introduction of allergenic foods (between 4-6 months) in high risk infants can be preventative.1 We also know that introducing complementary feeding at 6 months of age can help prevent picky eating.2 However, does the timing of complementary feeding play a role in childhood obesity?
The American Academy of Pediatrics published their article, Timing of Complementary Feeding Introduction and Adiposity Throughout Childhood this month! 3
Previous studies had inconsistent evidence on whether the timing of complementary feeding contributed to childhood obesity. This new study broadened the prior definition of "solid food introduction" to now include liquid food items (e.g. cow's milk and fruit juice).
Despite recommendations to introduce complementary feeding at 6 months of age by the World Health Organization, the American Academy of Pediatrics and the Canadian Pediatric Society, there are still families who choose to introduce solids earlier, or later.
1013 study participants from the Project Viva cohort were enrolled. Here is what they found:
Complementary feeding was introduced at:
<4 months for 19% of children,
4 – <6 months for 68% of children, and
≥ 6 months for 14% of children
Formula-fed children, vs. breastfed children, were more likely to have been introduced complementary feeding <4 months (35% vs 12%).
In breastfed children
Complementary feeding introduction <4months was associated with higher truncal fat mass in midchildhood (average age ~8 yrs) and early adolescence (average age ~13 years) and higher BMI z score and whole-body fat percentage in both groups.
In formula-fed children
The same results were found. The study also found that formula-fed children who had a delayed introduction of complementary feeding ≥6 months were also at risk of increased adiposity measures. Reasons for delaying were unknown.
Early introduction of infant cereal <4 months was associated with a higher BMI z score in midchildhood and early adolescence in both breastfed and formula-fed children. Early juice introduction <4 months in breastfed infants increased the risk as well. It's difficult to tease out whether it is the infant cereal that is directly correlated to increased adiposity vs. the fact that it was the most common food introduced (i.e. 82% of study participants were introduced to infant cereals <4 months).
"These findings support the recommendations not to introduce complementary feeding at <4 months in children [both breastfed and formula-fed] and suggest that delaying complementary feeding introduction [≥6 months] could possibly be detrimental for obesity prevention in formula-fed children."
This study raises quite a few questions.
Does the quantity of complementary feeding impact adiposity? What is the role of family dietary habits after infancy? Does early juice introduction increase intake later in life?
We clearly need more studies to look at what is being offered, how it is being offered, as well as the environment and behaviours associated with complementary feeding.
If you get a chance to read the article, share your thoughts with us.
Wishing you and your family all the best during this holiday season!
Charlene and Julie
P.S. We'd love to hear any feedback you have on our newsletter @ info@nutritionmc.com. We're constantly looking to grow and improve, but most importantly, offer valuable information that will make your jobs easier.
P.P.S. Do you have ideas for 2020 learning activities? Let us know, we're just about to start planning our webinars and course offerings.
Don't miss another newsletter – sign up here!