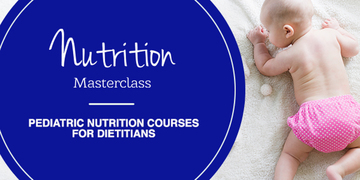 Our blog this month is a little different!
As many of you know, we offer online webinars and courses in pediatric nutrition. But what you may not know is how we went from having an idea and thinking about it for YEARS, to where we are today.We thought it might be fun to take you back in time and tell you how this all came about.
Before Nutrition Masterclass, we were receiving a TONNE of phone calls and emails from fellow dietitians looking for help with their pediatric patients.These dietitians were sometimes new to their role or maybe only saw a few pediatric patients per year.
We felt frustrated with our lack of time and resources and often felt like we weren't able to help in the way we wanted to.
How could we do more? This question was part of our very first conversation. We were two regular Joe dietitians, working 9-5 and plugging along. But at the same time, we wanted to do something different and share our experiences with other RDs.
Eventually, we had an idea.Other dietitians were offering online education in their particular niche – why couldn't we? We wouldn't just be helping with the case at hand, we'd be providing the tools dietitians could use to manage other patients and clients in the future.
Of course, all big ideas come with doubts.
❓ Are we capable of this? Yes – with the content.It's everything else that worries us!
❓ How much time would it take? We won't know until we try.
❓ Will we work well together? Yes – that was a no-brainer.
❓ What about the technology needed to make this happen? We'll learn.
❓ And marketing? No clue. But we'll figure this one out too.
Needless to say, this past year has been a whirlwind.It has been in this year that an idea was turned into a reality.There were many late nights.A lot of missed family time.The most massive learning curve either of us have encountered.
Was it worth it? Absolutely.
Charlene was recently a guest on "The Leveraged Practice Podcast" (Episode 26). She had a candid chat about creating an online program from the ground up and all the lessons learned along the way.If you're interested in checking it out, here's a link to listen or you can find it on iTunes or Spotify.
https://theleveragedpractice.com/podcast/ep-26-getting-started-with-charlene-kennedy/
Until next month …
Charlene and Julie
P.S. We'd love to hear any feedback you have on our blog at info@nutritionmc.com. We're constantly looking to grow and improve, but most importantly, offer valuable information that will make your jobs easier.
P.P.S. Don't want to miss out on future blogs/newsletters? Sign up to receive them directly to your inbox HERE!