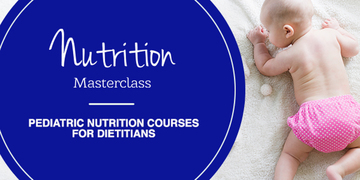 Do you see infants daily in your practice? Maybe it's a bit less often, one infant per week? Or perhaps infants are a rarity for you?
Just like many areas of dietetics, it's that experience of seeing infants over and over again that helps us to identify infants that could be at risk.
Even if you don't see infants regularly or don't have the experience to know all the "right" questions to ask, not all is lost!
We thought we'd share with you our TOP FIVE QUESTIONS that we ask the parents of infants we see to help with identifying potential red flags.
#1) Have any healthcare professionals voiced concerns regarding your baby's growth?
This is a biggie. And it opens a door for a more in depth conversation. However, this can sometimes be a really sensitive topic for families. If their baby is not growing as expected, they often feel a sense of failure or shame.
Depending on how the conversation goes, you may be able to ask the family for weight, length and head circumference data points (they usually have these available!) for plotting, allowing you to either reassure the family or include interventions to address the concerns in your plan.
#2) With a breastfed child, how often and how long are the feeds?
In breastfed infants, there is huge variation in feeding "norms" and these norms change drastically depending on the age of the child. This question is basically what we consider an 'outliers' question. We're looking for infants that fall into extremes.
Speaking in broad generalities, younger babies feed about every three hours, with longer stretches as they get older. They also tend to finish their feeds in about 30 minutes, often getting more efficient with their feeds over time. With this in mind, some red flags may be extremely short feeds, 5-10 minutes in a young infant or very frequent feeds, every two hours in an older infant. Maybe you're seeing a baby who is taking 45 minutes or more with each feed. Or perhaps you're seeing a newborn who is going six hours between feeds. These situations don't necessarily mean there is reason for concern, but are simply prompts to dig a little deeper.
#3) With formula fed infants, how many bottles is your baby taking per day and what volume are the bottles?
Most parents can answer the volume aspect of this question easily, telling you they always give 4oz or 7oz bottles, depending on the age of the child. The frequency is a bit trickier, and usually results in some finger counting of daily bottles by parents. Generally, you can get a rough idea fairly easily of their usual intake.
As with the breastfed baby, we're looking for outliers and extremes. An easy number to keep in your mind is 150 mL/kg. Most infants need about 150 mL/kg of regular infant formula to meet their energy requirements. Of course, we know there is great variation in this. However, if you have a parent reporting 100 mL/kg or 200 mL/kg, then it may be time to ask some follow-up questions.
#4) For formula fed infants, how do you prepare the formula?
We might not ask every family this question. But if a red flag has been raised for growth or volume of formula daily, this is a great follow-up question.
There are two basic recipes we always have in the back of our minds. Mixing instructions for standard infant powdered and concentrated formulas. Both require addition of water to bring the formula to the proper caloric density for feeding. For powder, the standard recipe is one scoop powder + 2oz (60 mL) of water. For concentrate, it's one part water: one part concentrate (ex. 100 mL water + 100 mL concentrate).
This information will allow you to double check that the family isn't feeding diluted formula or overly concentrated formula.
As a part two to this question, we always double check if they are using a ready-to-feed formula. We've had families think their ready-to-feed formula is in fact a concentrate, meaning they were diluting it by 50%.
#5) When do you plan on starting solids or have you started already?
The wording of this question will depend on the age of the baby. Knowing that the current recommendation is for infants to start solids around six months of age, this question allows us to identify early/late starts.
In our experience, early starts are often at the recommendation of another professional or based on family cultural practices in general. Asking what prompted them to start at that age creates an opportunity for a deeper discussion.
For late starts, 7-8 months or later, you will often hear that they didn't feel the baby was ready, that the child didn't show interest in solid foods or that "food before one is just for fun". Here, we may be seeing some signs of delayed feeding development, poorly timed liquid feeds or simply an opportunity to highlight the importance of solid foods.
Although this is just the tip of the iceberg with probing questions for parents of infants, these five questions will certainly be a great start to identifying infants that need a more in depth assessment.
If you're interested in fine tuning your assessment skills and solidifying your skills with infant nutrition in general, we hope you'll consider joining us in our course, Infant Nutrition Essentials. Registration is currently open and all the details may be found here:
P.S. We'd love to hear any feedback you have on our newsletter. Hit reply, we always welcome ideas on how we can continue to grow, improve and deliver valuable content that will make your job easier.
P.P.S. Have you joined our Facebook group: Pediatric Dietitians – Newbies to Masters | Facebook